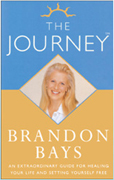 The Journey, pioneered by mind body healing expert Brandon Bays, provides a road-map to the unlimited healing potential that exists in each one of us. The Journey is a simple, yet powerful step-by-step process that gives us the tools to access our body's infinite wisdom and elicit its own healing power, getting to the root cause of any long-standing difficulty, fear or block. During this presentation Nathalie will give you a deeper insight into the Journey and guide you through a simple yet profound process.
Wednesday, 17 September, 7pm – 9pm
Sydney Forum (ABNLP)

NEW VENUE: Wesley Conference Center, 220 Pitt Street, Sydney

Bookings required: abnlp.org.au – go to Events & Programs – Members Forum Sydney
COME AND JOIN US!
You stand a chance to win one of Brandon's book The Journey, The Journey cards, a Journey DVD or a FREE iDetox Footbath!